29 October, Day 5:  Zagora -> Agadir, Finish!
We have an winner!
The last stage, 450 km of competition and the margins were small. One technical failure or mistake and the rankings could be totally different.
So tacticts was the key word today. Vattenfall was on a charge and overtook Agoria and Twente to take the lead.  However a small technical failure forced them to stop for repairs, falling back to third place.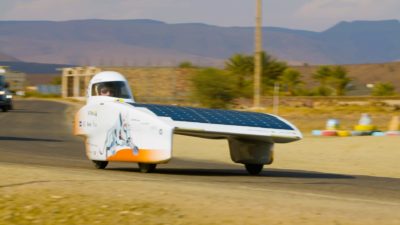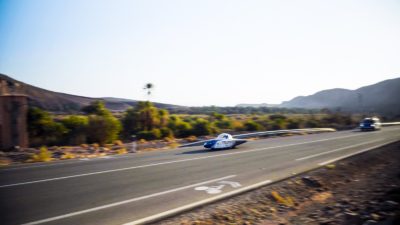 Agoria was the day winner with Twente in second and Vattenfall in third today.
It was a long and hard battle over sometimes gruelling roads but the winner after 2.500 km was…..SOLAR TEAM TWENTE.
Nevertheless were all teams greated as winners at the finishline. And that is what is so true. 2500 km driving in solar car, designed and built in 1,5 years is trully a great achievement.  All teams can be extremely proud.
And we as organizers enjoyed every minute of this challenge in the past week. Let's meet each other again in …. years for another solar challenge.
And now……its party time!!
28 October, Day 4: Merzouga -> Zagora
 The day after the night before
No, we did not have a huge desert party. Yesterday evening we were al surprised with an enormous sandstorm. Instead of a relaxed evening, all were trying to save tent and be sure no person or equipment was blown away. A lot of competitors decided to sleep in the convoy cars instead of the tents (or what was left of it).
But this also passed and it was an early but beautiful morning when the teams lined up for day 4, back to Zagora. The first part was already known from yesterday, but after leaving the desert, a new route brought them to new parts of the Atlas mountains, combined with small but very busy villages, roadworks, a terror corner (a Solar team Twente called a very tight hairpin in the route) and to make things more difficult, road floods. After last night's storm, the roads were flooded in places so the solar cars had to proof their boat skills.
So an exciting day and route, but another day victory for solar team Twente. In the general standings they increased their lead over Agoria. In third place Nuna 11 from team Vattenfall. Their victory hopes will only come alive when trouble hits the other teams. But Vattenfall had already enough trouble itself with a large part of the crew being sick with a kind of stomach flu. Even driver Stijn had to stop feeling too sick to continue. We hope they all feel better after a good night rest in the great Zagora bivouac.
Let's not forget that we also have a team in the Adventure Class. Team Solaride for Estonia. This is their first attempt with the first ever Solar car built in Estonia. A great and enthousiastic team who is improving all the time. They had already completed their first stage, set a new top speed for their car and today they had the first female solar car pilot and even passed the TopDutch team today. So this could be a strong contender in the coming years.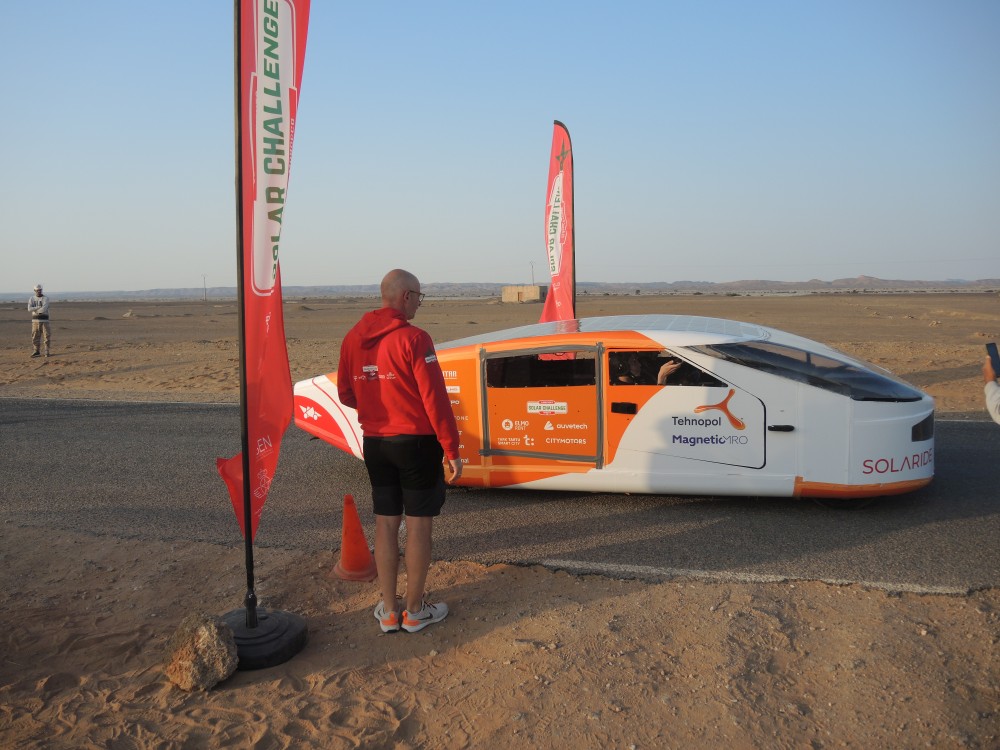 One more day to go and as they say " to finish first, first you have to finish". Tomorrow we know if this is going to be the long awaited victory for Solar team Twente.
27 October, Day 3: Merzouga -> Merzouga (Loop)
See the Download page for the route on the map.
Duel in the Desert
After three days of competition we can only say that we are deeply impressed by what the teams have realized with their own build Solar Cars. Super high tech, enormous passion en thrive and wanting to show the word what their idea is about using solar energy in transportation. It is great being part of this and experiencing this up close.
After a short stormy night, we saw the first team members already preparing car and deciding where to catch te best sun at 05.30. We never knew that students got out of bed that early…… but these are a totally different kind of students.  This week they live on adrenaline.
Today was a great day in the desert. Still some steep inclines but mostly desert, oasis and for the drivers fata morgana's of cold drinks and swimming pools. And to make it more difficult today with some new traffic on the road, donkeys, horses and camels were on and crossing the road. Some slaloming around them sometimes.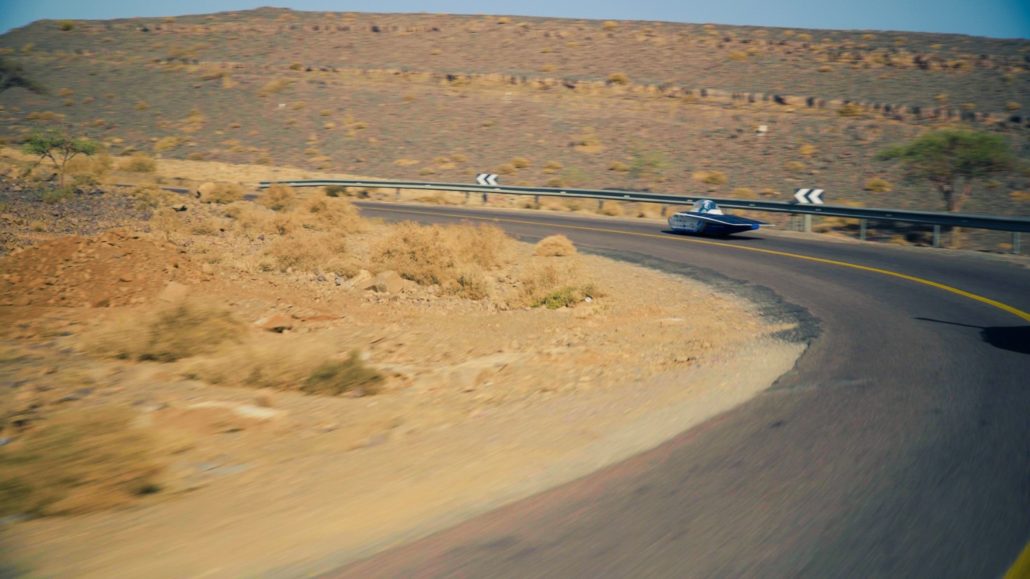 Right after the start Solar team Twente was on a charge and passed Agoria. Agoria tried to follow but in this hard battle they got a puncture and were forced to change wheels. Solar team Twente was the glorious winner of the day and now has the overall lead by 36 minutes over the Belgium Team Agoria.
This was also the day of Sonnenwagen Aachen. After some troubles in the last two days, they really showed their strength today.  They had a great battle with team Vattenfall passing each other multiple times with Sonnenwagen Aachen eventually finishing the day in third place.
Just as exciting was the battle today with Top Dutch and Chalmers. Top Dutch had to stop to re-charge but then had a great battle with Chalmers.
Overall Solar team Twente had taken the lead for Team Agoria and Team Vattenfall. Still two day to go through the hard but beautiful Moroccan nature. Nothing has been decided yet who will reach Agadir in first place.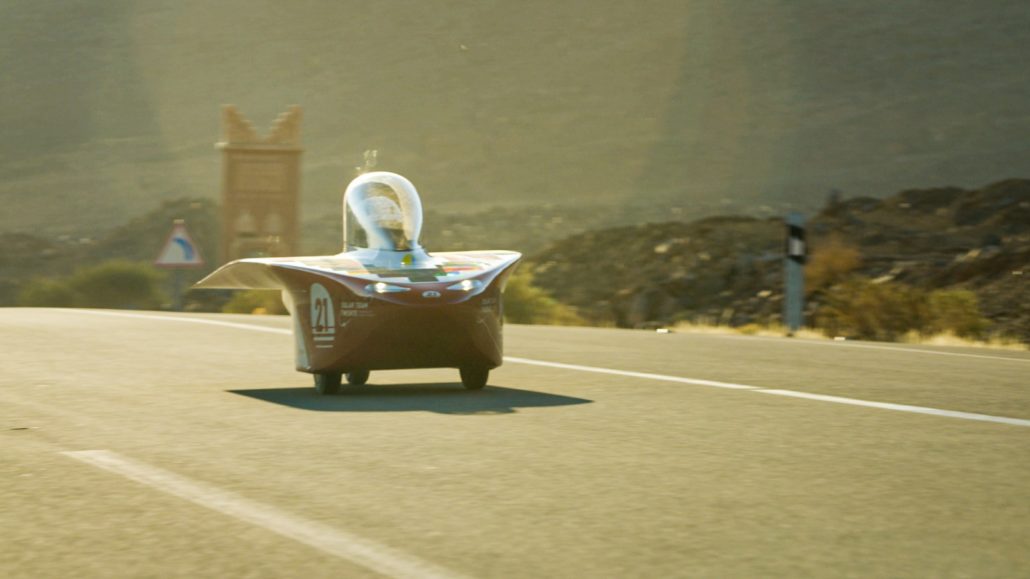 Tonight back in de bivouac in Merzouga and tomorrow back to Zagora over a totally new route.
.
26 October, Day 2: Zagora -> Merzouga
The battle is on!
The first night in the desert bivouaq is a great experience. Being welcomed by local singers, eating great Moroccan food and a good night sleep. Not a very long one because besides some small or bigger repairs and maintenance, it was an early rise and shine for the 08.00 AM start.
Team Fattenfal used all available sunbeams before the start.
Yesterday was exciting to see how the Solar cars performed in the mountains, today it is going to be even more challenging. The longest day with lots of mountain roads, steep incline of about 12% were waiting for the teams. And for those who thought only the Formula one had a close battle between Hamilton and Verstappen should see the battle between Agoria, team Vattenfall and Solar Team Twente. They were extremely close together the whole day, sometimes only minutes apart.
And the three teams are loving the competition, cheering to each other, hoping they all perform well. A real Solar Family, but a very competitive one.
It was a great and close battle this afternoon where at 50 km before the finish Solar team Twente overtook Team Agoria to finish this day in first place 6 min 19 ahead of team Agoria. Agoria still holds the lead over Solar team Twente with 11 minutes, with Team Vattenfall closeby in third place. It is going to be a great battle between these three teams the coming three days to the finish.
The other teams still have to finish today and we expect some of them so arrive on their trailer. It was indeed a challenging stage today, but the teams do not want to have it any other way.
The teams have arrived in bivouac near Merzouga at a very very windy place, so  sand everywhere, and we mean everywhere.
.
25 October, Day 1: Agadir -> Zagora
And off they went!
A totaly differente atmosphere this morning. Teams were very early at the Stade Adrar to prepare for the start.  Concentrated tense faces of the teammembers, checklists which were done multiple times and one last briefing for all the teammember. This is what the teams have been working for in the past two years: The Solar Challenge Morocco 2021.
At 10.00 hours The Green Spirit was the first to be started by Mr. Marouane Abdelatie,  followed by the other teams.
Who thought 2500 km of competition meant the teams were taking it easy in the beginning was mistaken. As soon as the teams left Agadit there was already a duel between Vattenfall and Agoria. But they have today 500 challenging km ahead of them. This is going to be exciting!!
Ain't no mountain high enough
This was the biggest concern of the teams today, the Atlas mountains. For the first time they had to climb to about 1.600 m, use twisty roads with hairpins and steep climbs and descents.
Right after the start the battle began. Team Agoria charged right away and overtook team Vattenfall just out of Agadir. Solar team Twente had already a small issue but the engineers fixed in record team so no big time lossed. Team Twente dropped to 5th but overtook the other teams again to finish the day in second place, right behind Agoria and just in front of Vattenfall.
Top Dutch, the team who started in pole position dropped with their Green Spirit during the day to fourth place but it looks like they have choosen another strategy.
Team Sonnenwagen Aachen had a long night repairing and preparing their car but as expected they could start without problems. It was not a day without problems for them as they had to change a wheel and solve a technical problem but finished the day in 6th place having to put the car on the trailer together with Team Chalmers.
We were pretty impressed with the way the Solar cars handled the mountains and the beautiful nature of Maroc. We have finished this day in the desert near Zagora in a bivouac. Camping ( well actually glamping as this is luxury camping) in the desert is a new experience for all.
See the Results page for the complete results after day 1.
Tomorrow we will continue to Merzouga with a control stop at the words largest solar park in Oarzazate. That will be quite an experience.
24 October: Qualifying day
The tension is rising at the teams. Today was the first day to show the performance of the Solar cars. First they had to show if they were able to perform some handling during tight turns at the dynamic scrunteneering salom. All past so no problems there.
In the afternoon it all started. A 2,6 km stage which had to be run as fast as possible to decide the starting order tomorrow. Motivated focussed drivers were cheered on by all the teams.  Al gave their best on and sometimes almost over the edge of the Cars performance.
Top Dutch Solar Racing with the Green Spirit were the fastest on this track so they are starting in pole position tomorrow.
Sonnewagen Aachen had a big moment resulting in some damage, but we are sure that the German engineers will be able to repair the Solar car for the start tomorrow.
Tomorrow the real deal start. This is going to be one exciting and tight competition the next 5 days.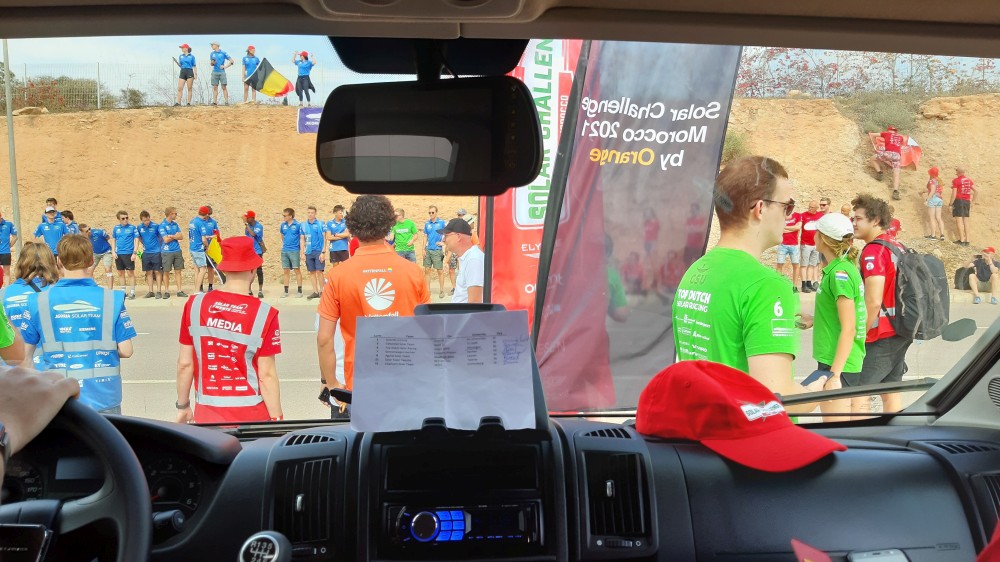 The Start-/Finishline seen from the 'Results Veheicle'
22 and 23 October: Scutineering
After two days of static scrutineering we were extremely impressed with all the techniques the teams bring to the Solar Challenge. Solar team Twente even brought something completely new for Red Horizon.  If all these guys and girls are in charge of the companies of  tomorrow, we are in for a really good future.
And needless to say that all teams passed the static scrutineering with flying colours.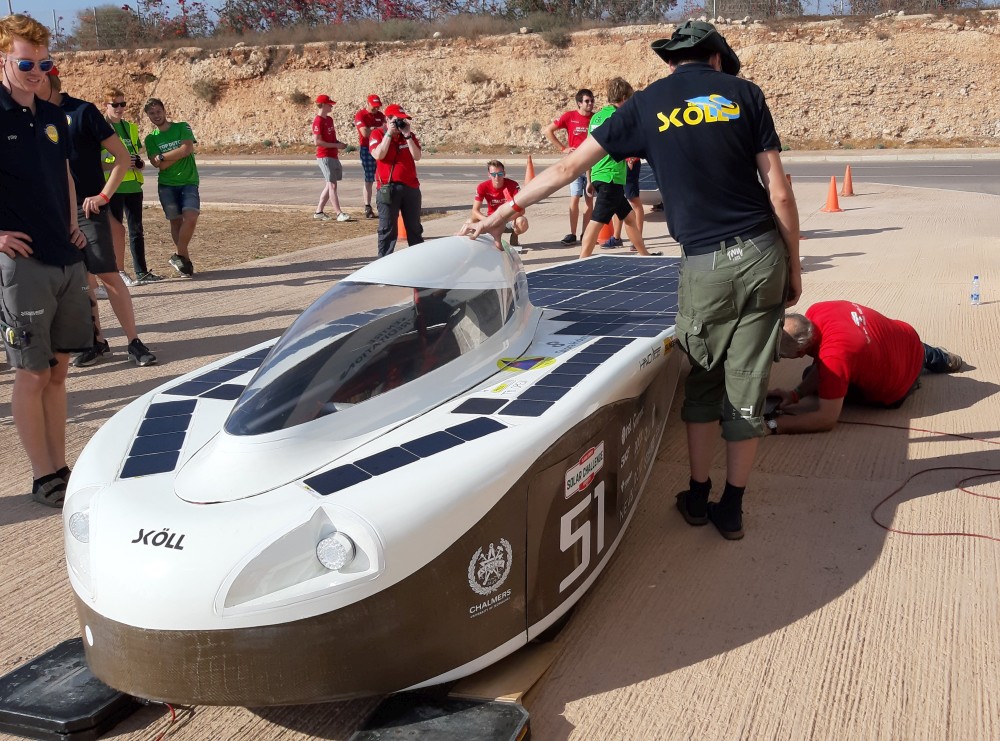 21 October: What an atmosphere
Sure, Organizing such an events costs lot's of energy and stress, but wow what a great atmosphere having all the teams here.  Even the competition is great, the stakes are high but there is one solar community. And a really relaxed one with the teams challenging each other into tandem bike races, football matches and helping each other where needed. We have organized a lot of events but this is a fantastic atmosphere.
20 October: Unpleasant surprise
It was not a nice surprise waking up and receiving e-mails that all flights to and from Holland, Germany and the UK were cancelled. Luckily all the teams were already in Maroc just as a large part of our crew, and the judges and our clerk of the course.  It took hard work but together with the ONMT and Royal Air Maroc we succeeded in bringing both crew and the majority of the press to Agadir.  Again a team effort!!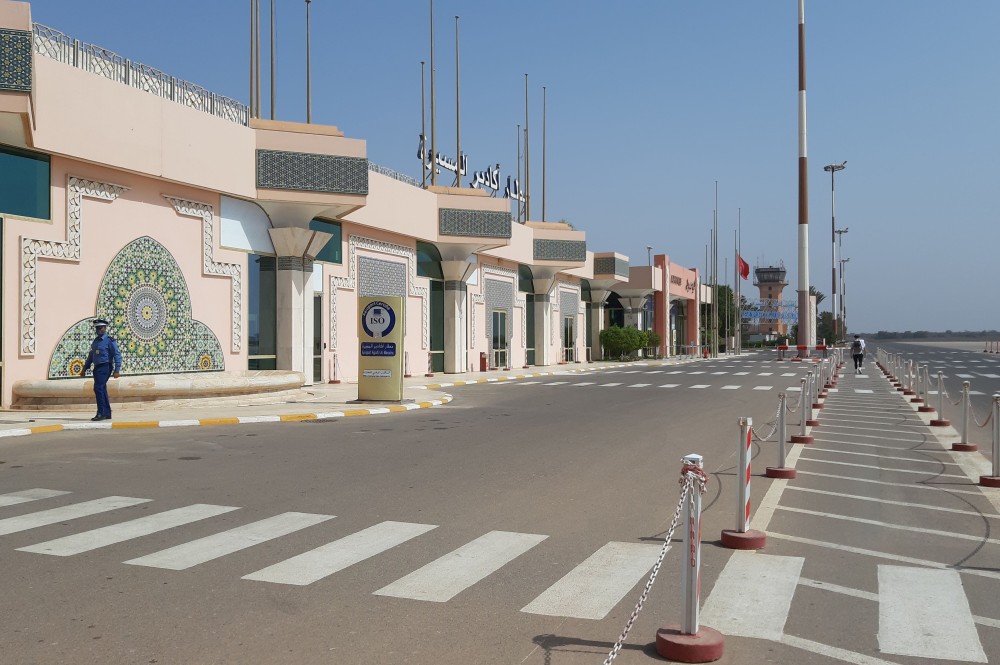 October 2021: And so it started,
It is great being in Agadir and seeing all the enthusiastic teams preparing themselves for scrutineering and the race on Monday.  It has been quite a wild ride organizing this in such a short time, but with the help of teams, alumni and of course the extreme valuable input of Sid Bikkannavar we have realized it.  And let's not forget our Moroccoan partners, ONMT, Royal Air Maroc, Iresen and Orange for their extreme valuable input and help getting where we are today. We are a proud organization standing here in Agadir, preparing ourselves for the teams and the race.