What people said on 2023:
Slovenia was very good, excellent hotels and good roads. Also lots of hairpin bends and many opportunities to make mistakes on the most slippery regularities.
Thanks for organizing this fantastic Winter Trial.

It was an exciting week and seriously strenuous. We enjoyed it and
the Win as the end result, it won't get any better!
Thank you for the beautiful memory you gave us again. I take my hat off to the tremendous achievement you and your team have delivered. I appreciate that very much. Keep up the good work!!
Edition 2024
The route is set and driven, Iain Tullie is working on the route details and we have disclosed all our overnight halts for 2024! Roaring to go!
Poland, Slowakia and the Czech Republic are the three countries we will visit and we will combine the best of the three Tatra countries for you. We promise you that we will do our utmost to try and find you the magical white stuff, even if this means going further east…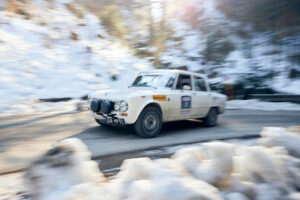 What is The Winter Trial?
The Winter Trial is a six-day regularity rally for classic cars which takes place in the winter.
It is an experience driving on snowy roads through rough landscapes whilst navigation your way and try to stay as close as possible to the set times. The teams will drive approximately 350 km per day, and the experienced teams also drive two night loops of an additional 150 km per night.
What can you expect?
Start – 28 January 2024
Finish – 2 February 2024
Cars – Classic cars build before 1986 (till 31-12-1985)
Length – approx. 2.500 km
Navigation type – Basic map reading & tulips
Competition – Regularity's, driving tests
History
The first ever Winter Trial was organized in 2001. This event was won by Roger Byford and Willy Cave, driving an MGB. This first edition went from The Netherlands southwards through the Alps to finish in Monte-Carlo. Since then, we visited all countries in Europe where there is a reasonable snow expectation. Last year The Winter Trail started in Berchtesgaden and after a complete tour through Slovenia the winners were crowned in Brdo (Slovenia). For the first time, the first prize was claimed by Rob van Leeuwen and Maurits Verhoeff.
The route will be completely redesigned to give you the best possible roads and venues.
I am new to the Winter Trial, is that a problem?
That definitely is not a concern. In December 2023 we will organize an afternoon for the newcomers to teach you the tips and tricks.
Who can compete?
If you have a valid driving license and common sense, good humour and an interest in having fun and a classic car than you can enter!
What type of car is eligible?
There will be two categories: Vintage cars of a type in production before the end of 1948, and Classic cars of a type in production before the end of 1985. Whichever type you decide to bring is completely free. However, it should be safe and reliable, have a fuel range of at least 300 km, and be fitted with an accurate trip meter.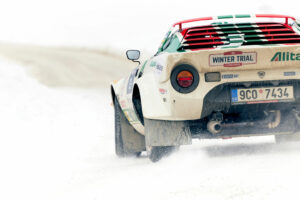 What class should I enter?
We have two classes: The Challenge Class drives the full daytime route, but does not drive the evening loops. They spend more time in the bar and have lots of fun.
The Trial Class is much more competitive. You need a more experienced navigator and be willing to drive two evening loops of about 3 hours each.
Do I need a competition license?
Yes you do, but if you do not have a valid one, a KNAF rally pass will be available at signing on.
Do I need to be a professional rally driver/navigator?
This is not a speed event but a road rally, run within normal traffic rules. You do not need helmets or fireproof overalls.  Above all, the event is intended to be friendly and fun; with time to socialize with your fellow participants and enjoy the scenery.
What does the entry fee include?
You are guaranteed 6 days of wonderful driving roads with hopefully a lot of snow. The routebook will and mapbook will be issued to you at signing on the day before the start of the event. The whole route will remain a secret till the very last minute.
Accommodation and all dinners (including drinks) and lunches are included, from the welcome dinner the evening before the start to the prize giving dinner at the finish. Every crew completing the rally will receive finisher's awards, and overall and class winners will also be presented with trophies. Dedicated parking, metal rally plates and number roundels will also be provided. A team of marshals and mechanics will tag along to ensure the most smiles per mile and make sure we will all reach the finish line.
Not included in the entry fee is your bar bill, fuel, vehicle insurance and car shipping to the start and from the finish back home.
Entry fee
A deposit of €1.500 will secure your entry for the event. A balance of €4.890 is then payable before 1 June 2022 (and €5.190 after June 1st.).
Entrée fee if fully paid before June 1, 2023 €6.390
Entrée fee if fully paid after June 1 but before September 1, 2023 €6.690
Entrée fee paid after September 1, 2023 €6.990
Please contact the Rally Office for more information, register with the button below or download your Application form WT 2024
By filling out the entry form and submitting your entry to the rally office, you agree to the terms as stated in our event regulations. 
12 people are attending Winter Trial 2024
Winter Trial 2024
28 January 2024 @ 08:00

-

2 February 2024 @ 17:00

€1.850,00 – €6.990,00