Day 1 – Potsdam to Torun
After a two-year delay, we finally started our Arctic Circle rally from the Louisenplatz and Brandenburger Tor in Potsdam today. All crews arrived early as they were eager to finally get going.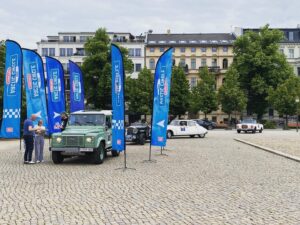 We started with a long freeway section to get out of Germany and to the first TC in Poland. After the TC the first regularity was not far and most crews did really well on the first regularity of the event with even 2 crews scoring a 0 penalty!
After the first regularity, we had the first mechanical issue of the event on Susan Godfrey and Patricia Field's Bentley. Somehow, the gearbox got stuck, resulting in a Bentley that failed to proceed. Rudy and Gerard tried all they could for about an hour or 3 and with some skill and a lot of luck they got the car going again.
Polish roads are possibly the worst of the roads we will see on the event, so the average speeds the crews achieved were a bit lower than anticipated. Nonetheless, all competitive crews managed the day without time penalties. 
Covid has caused some rust on, not only the cars but also on some of the navigators abilities it seems.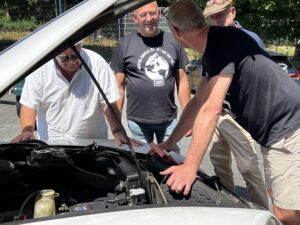 Hansje van den Broek started the second regularity on the second tulips page and got quite lost as a result. She managed to limit the loss to 24 seconds and 29 for the day placing them third after day 1. Bart and Jolijn Rietbergen did a bit better with 7 seconds over 3 regularities and sharing first place now are Richard Worst and Nicola Shackleton with Sue Shoosmith and Trina Harley, both having only 4 seconds penalty thus far.
Tomorrow we will start with the first test on Torun Rally X race track.
Day 2 – Potsdam to Birstonas
Today was possibly the toughest and longest day of the event, with 540 km total to get us across Poland and into Lithuania for the night. To top it all off, we lost an hour going into Lithuania as we enter a new timezone, which we will stay in until we go back to Sweden.
The test on Rally X Torun was a doozy. An easy 2 lap test with a bogey time of 2 minutes and Jaap and Hansje van den Broek managed to score 0 penalties on this! Bart Rietbergen used all his rally cross experience to set the fastest time on the circuit and took a 9-second beating.
The Polish countryside was lined with stork today. We saw countless stork and nests filled with baby stork. In one town, we counted no less than 14 nests on top of lampposts.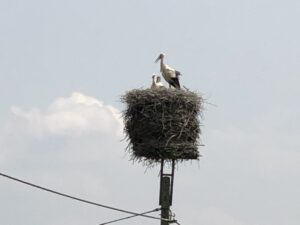 Perhaps the biggest surprise for the crews was when the rally route took them over an old communist airstrip. The road suddenly changed into this airstrip, which was recently resurfaced and looked all ready to be used. It certainly did not look anything like this back in 2019 when we first recced the route.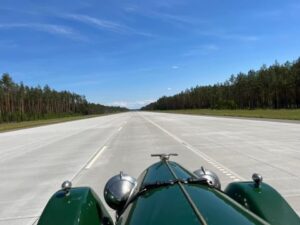 Apart from Susans Bentley, which now runs great again, we have another competitor for the "Pissing in the wind" trophy in a brand new restored BMW 2002. Although it being a 1972 car, Bob is experiencing range anxiety as his battery does not charge anymore. They are now driving from charger to charger till we can find them a new alternator…
Despite it being such a long day, all crews arrived in Birstonas on time for dinner.
Results for today:
1: Worts / Shackleton 11 sec.
2: Van den Broek 27 sec
3: Shoosmith / Harley 134 sec (query pending)
Day 3 – Birstonas to Riga
What was intended as a relaxed and relatively short drive today after 2 very long day's turned into a nightmare for one crew and a day full of repairs to keep the rest going. 
The day started wel with a nice regularity, where more than one crew missed the timing point. It had only 3 turns in the whole regularity but missing 1 can cost you to mis the TP… After the first regularity it was off to the Nemunas Ring just outside of Kaunas (a kind of mini Nurburgring) whereto crews enjoyed the first lap consistency test of the event. The crew who reportedly do not use any speed tables anywhere scored the best on test here with only 5 seconds penalty.
Congratulations, Nico and Inge!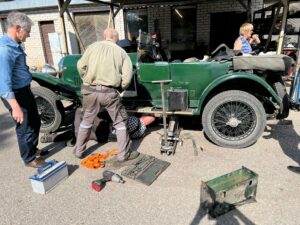 After another nice and easy regularity, it was time for lunch at the Pakroujus Manor. Unfortunately, this would prove to be the last stage for Jaap and Hansje van den Broek in their DS. Two km's after lunch, their differential broke and took out the driveshaft and cut the gearbox in half… They will be enjoying the rest of the event in a rental car and let us hope that this newly added class will remain a 1 car class.
The good news of today is that both the Bentley of Sue and Trina and Bob and Kathleen's BMW had a more permanent fix to their problems and they should now be running problem free (fingers crossed).
This all resulted in the Bauska rallycross track being a private race track for the remaining crews who really enjoyed the drive around it.
At the end of the day we all had a lovely dinner at the Riga Motormuzes. A bus was rented from the museum to take us there and back so we all enjoyed the drive around Riga in a 60's Icarus Russian bus. They have done a magnificent job in the museum over the past few years in building new exhibits, and the car collection really reflects the history of the Baltics.
Results for Day 3:
1: Richard Worts and Nicola Shakleton
2: Bart and Jolijn Rietbergen
3: Nico van der Post and Inge Ligthelm
Day 4 – Riga to Tallinn
We started the day with returning to Birkenikenai circuit for a lap consistency test of 5 laps on the 5,5 km long track. If Nemunas was a mini Nurburgring, this could qualify as a medium version that more famous track. This circuit is all that racing used to be. No run off area's, no gravel pits but grass and guardrail to keep you going in the direction you should be going. Apart from the rain and large puddles of standing water the crews had a great run on this track! After this test we went straight to Sigulda. A winter sport village Estonian style… Ski slopes, bobsleigh track, cross country skiing and much more. It is the bobsleigh track, or rather the service road, we used for a short hillclimb test with a bogey time of 1 minute. Although they came close, nobody managed to achieve this.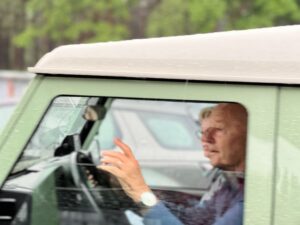 After a TC and 2 more regularities on very wet and slippery gravel roads lunch was served at the Parnu Bay Golf Course with a great view of the Baltic Sea as by now it had stopped raining.
At the lunch halt Jaap and Hansje joined us in their Audi Q2, a rolling phone booth as Jaap calls it. They will be following the event in the rental car class we created specially for them.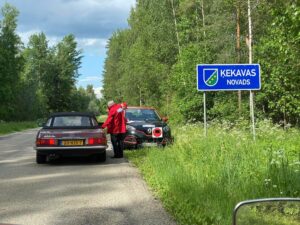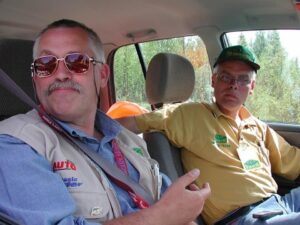 The MC today was in another classic car museum which shows the private collection of the owner of the Laitse Rally Park rallycross track where we had the third and final test of the day and this leg.
In the hotel we were very kindly welcomed by Estonia Invest, a company that facilitates foreign investors and companies to find good business opportunities. With some nice snack bites and a welcome glass of wine on the roof terrace the first leg as officially closed.
Tomorrow is the first restday where crews get to enjoy the beautiful and medieval city of Tallinn before making the crossover to Helsinki and the start of the second leg.
Results on day 4:
1: Richard Worts and Nicola Shackleton
2: Bart and Jolijn Rietbergen
3: Nico Post and Inge Ligthelm
Results for leg 1:
1: Richard Worts and Nicola Shackleton
2: Bart and Jolijn Rietbergen
3: Nico Post and Inge Ligthelm
Day 6 – Helsinki – Jyvaskyla
Getting out of Helsinki was easy enough this morning with the Hilton Kalajaastorrpa being on the outskirts of this ever-growing city. It was not long before we hit the first regularity with a slightly higher average than the crews had to do on leg 1. Some of them truly felt like the famous Flying Finns! A smooth drive on tarred and gravel roads took us to Ahvenisto raceway, a sweet little track in the Finnish forrest in a sort of figure 8 configuration where you pass under and over yourself. History was made on this track the greats of the '60s like Piet Nortier, Graham Hill, Jim Clark, Jean Ragnotti, Mika Hakkinen, Mika Salo and lately Valteri Bottas and of course our competitors!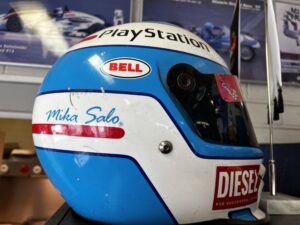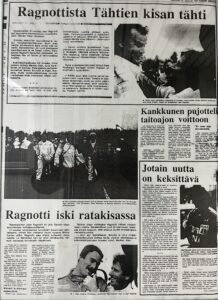 We had our lunch in the only rally museum in the world, where else but Finland would this be, where we enjoyed the Finish rally history and lots of cars and memorabilia of the Flying Finns.
With only two more regularities to the day was going to end smoothly, without problems and all cars in one piece… until we received word that the number 11 Bentley (Lucy) was stranded with a broken oil pipe (high pressure). They had some scary moments being towed by Rudy and Gerard for 45km's on a solid towbar. As luck would have it, they arrived at the hotel just when the local mechanic finished opening the rental Audi for Jaap and Hansje who locked their key inside the car. Within 2 hours, brand new oil lines were fitted to the car so they will be good to go in the morning.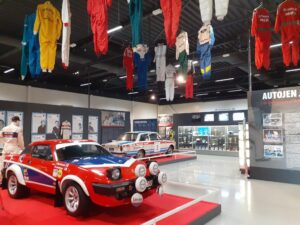 Results for day 6:
1: Richard Worts and Nicola Shackleton
2: Bart and Jolijn Rietbergen
3: Nico Post and Inge Ligthelm
Day 7 – Jyvaskyla to Vuokatti
With only 370 km to go on smooth tar and typical Finisch gravel roads (often better then the tarred roads) all crews had an easy run today. With 2 regularities and 2 tests even the competition was a doozy for most. Nico Post and Inge Ligthelm in the light blue volvo had a black out today after doing so well before. Being first on the road today they completely missed the first TC and went straight to lunch where they did not find any marshals yet at 10:45 AM…
On the other side of the scale, Bob Williams and Kathleen Hogan had a great run and they are learning as we go. They came in 3rd today behind Bart and Jolijn and Richard and Nicola. Hansje van den Broek seems to have overcome the initial issues in getting to know their rental car and would have been third only beating the beautiful white BMW by a few seconds if they were still competing!
Tomorrow we head for Rovaniemi on day 8 and we will reach the half-way point of the Arctic Circle on the Arctic Circle. Lets see if Santa is there to great us!
Results for day 7:
1: Richard Worts and Nicola Shackleton
2: Bart and Jolijn Rietbergen
3: Bob Williams and Kathleen Hogan
Day 8 – Vuokatti to Rovaniemi
Last night, Patricia Field went out for a nice long swim in the 15 degrees warm lake by the hotel. This set of the neighborhood watch as no Finn would ever swim out as far as she did. Not because they were afraid for her. It was because they thought a Baer was swimming towards the hotel…. Nice one Patricia! With two tests and 3 regularities the crew were rather busy on their way to Santa. The Goedmakers crew had rather bad luck on both tests. On the first test you had to cross a small bridge after the start, next to a footbridge… you guessed it, they took the footbridge. Navigating their way on the test after taking the wrong bridge seemed more difficult than it should because instead of passing in front of a building they managed to find a road around the building. This obviously resulted in a somewhat slow test time, apart from taking the wrong test. On the second test, a hillclimb up Iso Syote they were hindered by a group of reindeer crossing the road slowing them down significantly. Meanwhile Bart and Jolijn had lost most power from either an ignition or a fuel pick up problem so they barely made it up the hill to lunch in the newly build Iso Syote hotel. The original was destroyed in a devastating fire back in 2019. A magnificat view from the top of the highest hill in Finland was the extra treat at lunch.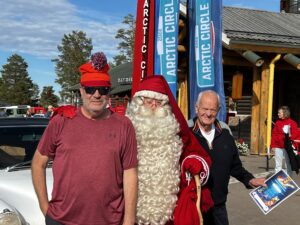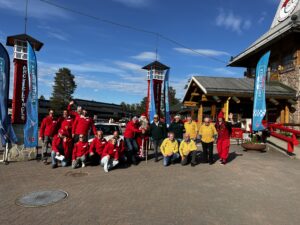 At the end of the day we all reached Rovaniemi and Santa's Village were Santa came to greet us and us the official "Arctic Circle crossing" document. It was great to be back after 22 years with new friends and old.
I am sure Trina will sleep tightly tonight, dreaming of Bentley's sliding on Ice after winning their first day of the event…
Results day 8:
Sue Shoosmith and Trina Harley
Richard Worts and Nicola Shackleton
Bob Williams and Kathleen Hogan
Day 9 – Rovaniemi to Arjeplog
We left Santa to his Christmas preparations today and set off for Sweden, but not before we navigated the first of only 2 regularities today. It seemed easy enough for the crews looking at the scores. The worst of this regularity was only 7 seconds. It seems more and more the crews have decided that nobody wants to become last…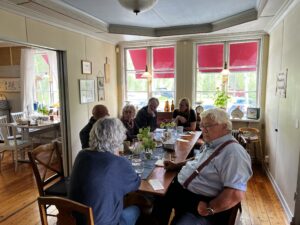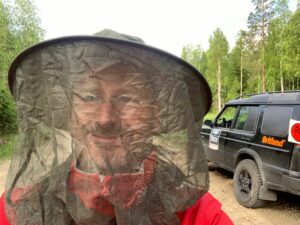 Bart and Jolijn still did not manage to locate the issue that holds their engine from running properly. They cruised the mainroads at 60 km/h until they stopped for lunch. They decided to take of the distributer cap and the coil lead for inspection and a good clean. After putting it all back together after lunch the car was running much better so it seems it is one of these parts… The story continues tomorrow as they will start their Monday search for a garage.
With 520 km it was a long day with longs straight roads on both gravel and tar in basically a straight line to the West. The views were amazing every now and then and we saw lots and lots of reindeer again!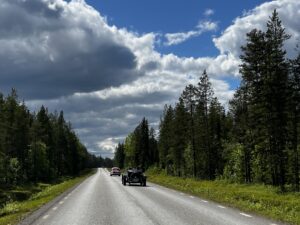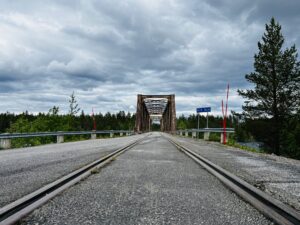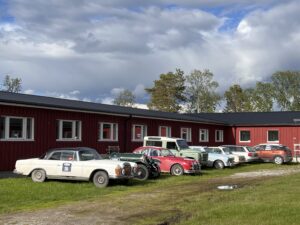 The final regularity caught the two Bentley crews out, both missing the only left slot resulting in exactly 2 minutes penalty for both.
Having had our portion of Reindeer both on the road swell as on our plates today, dinner finished just in time for the start of Canadian F1 Grand Prix which we watched as a group. We saw our National hero Max, start and win from pole position after a great fight with Sainz in his Ferrari.
Results day 9:
Richard Worts and Nicola Shackleton
Bob Williams and Kathleen Hogan
Nico van der Post and Inge Ligthelm
Day 10 – Arjeplog to Mosjoen
Today the daily report By Trina Helen Walsh:
Another long day – 289 miles – but on much smoother roads. We crossed into Norway – our eighth and last country on this rally – after lunch. As we came near to the Norwegian border the landscape changed and became much more varied.
We saw a family of reindeer walking along the road. They seemed pretty reluctant to get out of the way this time! We also saw three ptarmigan- v special.
Had coffee in a pretty town called Sorsele – in a cafe which doubles up as the station, tourist office and gift shop.
We then joined the road which is part of the "Blue Highway" – a trans Scandinavian route from Norway to Russia. The scenery was absolutely stunning and we saw our first snow!! It was very cold as we climbed higher and higher.
Lunch was in a winter resort called Tarnaby – birthplace of famous skier Ingmar Stennark – with beautiful views over Lake Gauta.
After lunch we crossed the border and drove up a road built by the Germans in WW2 using Yugoslav prisoners of war. Fortunately Lucy made it up the steep climb without boiling over – in fact she didn't miss a beat all day!!
Now we are staying in a pretty town called Mosjoen – the hotel overlooks a pretty fjord.
The scenery is stunning here. Norway is a beautiful country and I think things are going to get better and better.
Just so delighted to have made it this far!! Roll on tomorrow!
Day 11 – Mosjoen to Trondheim
Today was a longish day with the route taking us off the E6 left and right heading south to Trondheim. Its the heading south after 10 day's of rallying that seems to be catching people out this morning, turning left instead of right and right where it should be left…
The weather was not helping either, it was pouring with rain for most of the day but the rads were great and the scenery surely nice.
We concluded the end of the second leg with a test on the Hell RallyX circuit with a 2 lap test of this world rally cross circuit. Sue and Trina were the first to arrive and as the marshal counted them down to their start, on zero the engine stalled. They quickly pulled out the spare fuel and filled Lucy up but in the end it seemed that with all the rain, the lights, wipers and all other electrics being used for the day the battery just gave in..
Results for day 11:
1. Susan Godfrey / Patricia Field
2. Richard Worts / Nicola Shackleton
3. Nico Post / Inge Ligthelm
Day 12 – Trondheim restday
Both the cars and the crews were in dear need of the rest day it seemed. After a leg of 8 day's and crossing through 3 countries with ever changing scenery and lots impressions to take home, Trondheim is the perfect place to have stroll, a sleep, a carwash and some tinkering on the cars.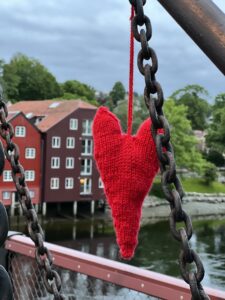 Day 13 – Trondheim to Geiranger
Today was possibly the most scenic route of them all.
With plenty of snow, fjords, waterfalls, high mountains, pitch black scary tunnels and deep gorges. Every corner we turned was a wow!! We passed Vinnufossenthe highest waterfall in Europe and Mardalsfossen the tallest free falling waterfall. This particular one only flows from June to August as it is used to generate electricity!
Lunch was by a stunning lake with a huge dam at Aursjohytta after an amazing drive to the top of a pass with snow and frozen lakes.
The afternoon saw us climb the eleven hairpin bends of the Trollstigen – a well known pass which, translated, means Troll's Ladder.
The road passed through a couple of giant waterfalls and we all got a bit wet.
The day ended with a short ferry trip across another fjord and a climb to Geiranger overlooking the stunning Geirangerfjorden – a UNESCO world heritage site.
What a day!!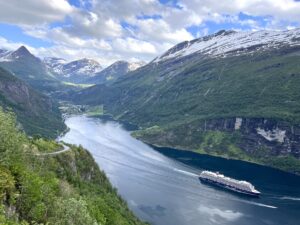 Results day 13
Sue Shoosmith / Trina Harley
Richard Worts / Nicola Shackleton
Bart and Jolijn Rietbergen
Modern cars:
Tonny and Monique Goedmakers
Jaap and Hansje van den Broek
Day 14 – Geirangerfjorden to Balestrand
A beautiful sunny day with more stunning scenery. The route took us along extremely narrow gravel roads with steep drops either side, surrounded by frozen lakes and 15 foot high snow banks along the road.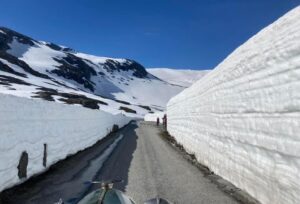 Again, around every corner there was a wow photo to be taken. The waterfalls were spectacular with huge volumes of water cascading down into the many fjords and glacial lakes which we circuited.
As we turned south, the landscape became "more pastoral" – gentler and less bleak –  reminiscent of Switzerland.
Now we are staying in the beautiful town of Balestrand, in the historic Kviknes hotel overlooking the Sognafjorden. Tomorrow is an early start – leaving at 7.15 am to catch the ferry across this fjord.
Results day 14:
1. Richard Worts / Nicola Shackleton
2. Bart and Jolijn Rietbergen
3. Sue Shoosmith / Trina Harley
Day 15 – Balestrand to Geilo
A very early morning for all, even earlier than anticipated as the competitors decided to take the early ferry across the Sognefjord from Balestrand. The timeshedule allowed the 08:10 ferry where marshals would be on the 07:40 ferry to keep them in front of the rally… The whole rally was on the 07:40 ferry apart from Bart and Jolijn and the HQ van.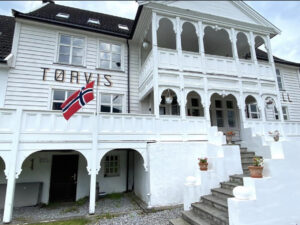 The TC in Torvis Hotel however was a lovely place to sit and relax. Enjoy a coffee or two whilst taking in the great views across the fjord.
The day would give a new scenery to the crews after lunch as we are getting further South. The mountains and fjords have made way for moorlands and high mountain plateaus. Still a very beautiful country to drive through but unfortunately 80% of all European camper van drivers had the same idea as we did.
It turned our to be a busy day with 4 regularities and a test on a fabulous Rallycross track near Gol. Most regularities seemed to work fine our competitors and most mistakes made were corrected in time to prevent huge penalties. This now means that with today's result we have tie for the third and final leg between Richard/Nicola and Sue/Trina. 
Will they be able to win the final leg over the red Jag?
Results day 15:
Sue Shoosmith / Trina Harley
Richard Worts / Nicola Shackleton
Bart and Jolijn Rietbergen
Day 16 – Gelid to Sundvolden
A short day today to finish of the event, but not before Keith has pulled them through the final 4 regularities in just the morning… 
All crews were absolute motivated to get through them and most of them did. We did however seem to have lost Bob and Kathleen for a little while after the TC but they suddenly appeared again after a miss lot early in the third regularity. Sue and Trina managed to miss lot on the same junction, in the same regularity where Sue had Phil Surtees drive of into the forrest 22 years ago…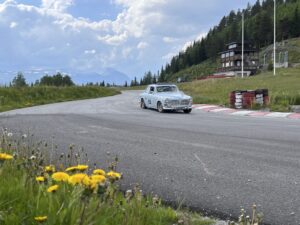 This meant that they handed the leg win to Richard and Nicola who won the event outright by taking victory in all three legs.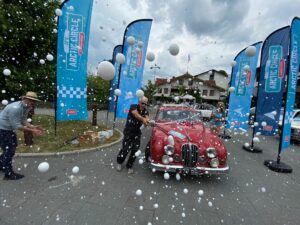 A huge thank you to all Classic Events crew and all competitors. Touched by all compliments and proud of all of you for completing this route and event with friends, old and new!
Overall Results:
Richard Worts / Nicola Shackleton
Bart and Jolijn Rietbergen
2.

 

Susan Godfrey / Patricia Field (+ Against all odds)
3.

 

Sue Shoosmith / Trina Harley